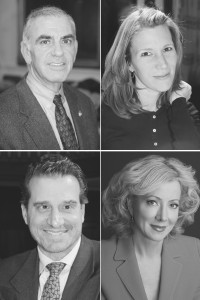 The 2011 slate of officers for the Inner Circle will be sworn in, and the 2010 show will be shown in its fantastic entirety on Friday, Oct. 29th at The National Arts Club at Gramercy Park.
If that's not enough (and what is in this economy?), there'll be plenty of drinks, delicious buffet food and good cheer as our members gather for this annual rite.
Relive "Trilite -Bloomberg Bites" as it was performed by the IC cast, hear the cheers once more, roar to the jokes, and sing along to the biting lyrics all sung "into the mic."
What's more, the new officers will pledge their solemn oath to make the next show just as good, or at least to get better sandwiches at The Hilton.
They are: President Mark Lieberman, Vice President Melissa Russo, Treasurer Glenn Schuck, and newly anointed Secretary Beth Karas.
Also on hand to start the chat about next year's show (March 26, 2011) will be Writing Chairman Larry Sutton, Director Shelly Strickler, and Musical Director Kathy Beaver. Any member in good standing is free to begin lobbying for parts.
The fun starts at 6pm at the National Arts Club, 15 Gramercy Park South.